All of these wonderful instructors will be here for the
2019 Dutchland Dulcimer Gathering!

Nina Zanetti
Nina Zanetti is the 2008 National Mountain Dulcimer Champion. She comes to the mountain dulcimer from a diverse musical background, including choral music, violin, viola, piano, and shape note singing. She plays regularly at churches, historic sites, and community events and has taught workshops at dulcimer festivals throughout the country, including Western Carolina University, John C. Campbell Folk School, and Kentucky Music Week.
Nina is especially fond of the "softer side of dulcimer." She has produced several books of solo arrangements for mountain dulcimer and has co-authored four books of duet arrangements. She has a strong interest in American folk hymns as well as a love of early music,

Bill Collins
Bill Collins is a well-known musician in the world of mountain dulcimer, and has been extending the art and repertoire of the instrument since the early 1990's. He has been described by his fellow musicians as a brilliant player, with great versatility. He is generally recognized as a gifted teacher, extremely clear and well-organized, and is very generous with his time and sharing music.
Bill has conducted more than 100 dulcimer workshops at festivals in in most states between Vermont and Alabama, and has taught week-long sessions at Augusta Spring Dulcimer Week, Shenandoah University, and Kentucky Music Week. In addition, he has written six books of dulcimer arrangements.

Wendy Songe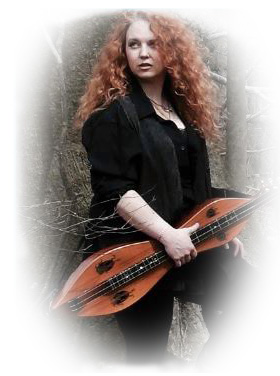 Wendy is the most recent Natonal Mountain Dulcimer Champion, singer, songwriter, teacher, performer, and a nationally touring musician. Born in North Carolina, raised in Oklahoma, and with roots stretching from Louisiana to Canada, and Scotland to the Native Americans, Wendy Songe weaves an eclectic tapestry of diverse instruments, cultures and songs from across the globe.
A self-proclaimed musical gypsy, Wendy Songe tours the country extensively, sharing her music with audiences and students everywhere. Her music has been featured on radio, television, in print, and at many of the finest music festivals in the United States.

Dave Haas
Dave Haas lives in Charleston, WV, and loves to perform and teach others how to play the mountain dulcimer! He has been playing the dulcimer since 1990, and loves to share the mountain dulcimer and its history with schools, churches, and civic organizations. He has even brought dulcimer music to those in prison!
Dave is a popular dulcimer instructor, and has performed in 16 states. Dave also plays the guitar, sings, and leads music on Christian retreat experiences such as Kairos Prison Ministry, The Walk To Emmaus, Cursillo, and Teens Encounter Christ.

Judy House
Judy is from Winston-Salem, NC, where she lives with her husband, Kirk. A graduate of Campbell University, she is a retired public education teacher. Having been involved with music all her life playing the piano, flute, and other instruments, she was asked 10 years ago to teach dulcimer at her local community college. This led to a new career for her! She now enjoys teaching groups and individuals in her area as well as festivals all over.
Judy's passion for teaching, as well as playing, the dulcimer has led to her teaching at festivals around the country, including Dutchland Dulcimer Festival, Lancaster, PA, the North Georgia Foothills Dulcimer Association Festival at Unicoi State Park, GA, and Black Mountain Music Week, Black Mountain, NC, among others. She was recently the presenter at Folkcraft's Second Saturday Clinic in Woodburn, IN.

Butch Ross
Chattanooga multi-instrumentalist and mountain dulcimer maestro Butch Ross has tackled everything from Radiohead to Bach and come away with a renewed appreciation for what the humble dulcimer is capable of. No genre is off-limits, nor is there a limit to what Ross has envisioned for this specific instrument.
Ross had been a touring singer/ songwriter since he was given a mountain dulcimer as a birthday present. Today, he is an in-demand performer and instructor at folk and dulcimer festivals through the US and Europe. He's performed at such festivals as the Central Ohio Folk Festival, Falcon Ridge Folk Festival, the Lancaster (UK) Music and the prestigious Philadelphia Folk Festival.

Kirk House
Kirk House has been playing the dulcimer for 12 years; for the last six years he has specialized in the bass dulcimer. He is a Nationally Certified Dulcimer Teacher, through Western Carolina University (Dulcimer U program). Kirk plays several different styles and designs of bass dulcimer, including 3-string, 4-string, and double-bass. He performs as part of a duo with his wife, Judy House, as well as a member of the trio 'Cantabile-Jubilee' and the quartet string section, 'SASSY.'
Other musical interests of Kirk's include mandolin, bowed dulcimer, ukulele, and shape-note singing. Kirk is delighted to be making his first appearance at the Dutchland Dulcimer Festival as an instructor.

Andy Fox
A masterful fingerstyle guitarist, Andy first started playing over 30 years ago. He spent a few years as part of the Boston music scene, playing in bands ranging from folk and blues to rock and ska while attending Berklee College of Music. While still in his teens, Andy encountered the legendary Michael Hedges, whose playing was a major early influence on his own personal development as an artist.
Andy toured for a number of years as half of the musical duo, Andy & Denise, appearing in every venue from coffee houses to large festivals. Together, their songwriting skills received national recognition, and their music has been featured in various TV shows and independent films. Andy's solo instrumentals have also been heard on numerous episodes of the Oprah Winfrey Show. To date, Andy has released two instrumental acoustic guitar CDs and has shared a number of his intricate guitar compositions on YouTube.