These are the wonderful instructors who will be teaching during the 2021 Dutchland DulciZOOM Gathering!

Laurie Alsobrook
Laurie Alsobrook returns to the Dutchland Gathering this summer and is pleased to be "back in Pennsylvania."
With co-director David Beede, Laurie organized, hosted, and led workshops for "Dulcimers Do Digital" at the 2020 Stephen Foster Dulcimer Retreat. The year 2021 has brought more opportunities for instruction with her appearance at the QuaranTUNE 3.0 in February and she is on board as an instructor at QDF 4.0 in June. In March, Laurie "traveled" to England to teach at the Nonsuch Dulcimer Virtual Spring Fling.
An avid jammer, Laurie hosts a weekly Friday afternoon Zoom-Jam and is a song leader for another virtual jam session every Saturday. Laurie is also known as an engaging teacher, receiving such comments from her students: "a lovely and upbeat person" and "her enthusiasm is contagious!"

Aubrey Atwater and Elwood Donnelly
Atwater and Donnelly have performed and researched traditional folk music and dance in Appalachia, the Ozarks, New England, and other key places in the United States, as well as Ireland, England and Prince Edward Island. They have performed with or shared festival billing with folk legends Jean Ritchie, Pete Seeger, and Doc Watson.
Atwater and Donnelly have performed and researched traditional folk music and dance in Appalachia, the Ozarks, New England, and other key places in the United States, as well as Ireland, England and Prince Edward Island. They have performed with or shared festival billing with folk legends Jean Ritchie, Pete Seeger, and Doc Watson.
Aubrey and Elwood lead workshops, study with traditional musicians and folklorists, play for and call contra-dances, appear on television, and regularly receive standing ovations for their concerts during trips to festivals and camps such as the Hindman Settlement School in Eastern Kentucky, the Augusta Heritage Center in West Virginia, the Old Songs Festival in New York, the Ozark Folk Center in Arkansas, and the Swannanoa Gathering and the John C. Campbell Folk School in western North Carolina.

Joe Collins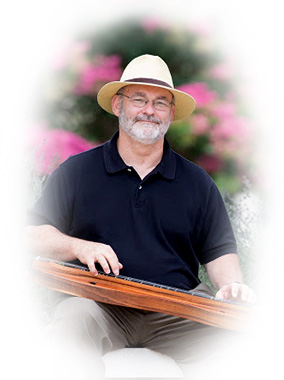 Joe Collins fell in love with the mountain dulcimer back in 1978. At the time he was doing occasional coffeehouses as a college student in eastern North Carolina, and a good friend thought that he might be interested in tackling another instrument besides the guitar. He took her little instrument home, and she did not get it back for three years!
After competing in a number of competitions and winning several regional competitions over a ten-year period, he won the National Mountain Dulcimer Championship in 2007 in Winfield, KS. Over the past twenty-five years, he has had the opportunity to teach and play in festivals from California to the east coast, from Florida to Vermont, and a lot of places in between.

Linda Weber Collins
Linda Weber Collins grew up in the worlds of classical and church music.Linda began singing in the youth choir at the age of four and was studying both piano and cello by age 12. She earned her Bachelor of Music Education degree at Florida State University, studying piano and cello and performing in the FSU Symphony.
While living in Ireland for 10 years, Linda studied traditional Irish singing. She sang and accompanied on guitar at choral competitions. Back in Florida, she learned to play mountain dulcimer and formed several folk and Irish bands, including The DoneyGals, Meíreacá and Toss the Feathers. A Florida State Champion on mountain dulcimer and in old-time singing, Linda has led workshops and performed at: Florida Folk Festival, Suwannee Dulcimer Retreat, Florida Acoustic Winter Gathering, Mountain Dulcimer Music Fest and Cranberry Gathering, both near Albany, NY; Nutmeg Dulcimer Festival in Milford, CT. In this pandemic year, she has taught and performed at QuaranTUNE 3.0 via Zoom.

Sam Edelston
Sam Edelston is on a quest to make dulcimers as popular as flutes and fiddles. His mountain dulcimer videos have been viewed more than 1,000,000 times, embracing much of the rock and pop spectrum, plus bluegrass, bossa nova, Sousa, opera, and more. On acoustic and electric dulcimer, he often makes his three strings sound like more than one instrument, and has gained a reputation as an innovative arranger.
Sam has performed and taught at a variety of festivals and other venues around the Northeast, and is becoming a popular performer in other parts of the country. He is chair of the Nutmeg Dulcimer Festival in Connecticut. One workshop student commented, "As zany as Sam is, he is a patient, knowledgeable, caring teacher also experienced, smart, creative, etc."

Bing Futch
Using Appalachian mountain dulcimer, Native American flute, ukulele and a board full of stomp-boxes, Bing Futch celebrates traditional and modern Americana music with passion, humor and boundless energy. Known for his musical shape-shifting, Bing switches the channels on style and tone with every new song, from his roots-rock and blues originals to The Rocky Horror Picture Show and Disney covers. Bing's music has been featured in film, video, on stage and in exhibits at the Orlando Museum of Art.
In 2014, Bing won the Solo/Duo Artist award in the Central Florida Blues Challenge competition, earning a coveted entry into the 2015 International Blues Challenge in Memphis, TN, where he advanced to the semifinals. Several months later, Bing competed in the 2015 Central Florida Blues Challenge and won his category for the second year in a row, which led him back to Memphis to compete in the 2016 International Blues Challenge. There, he advanced all the way to the finals and was given the award for "Best Guitarist" in the Solo/Duo category, despite competing solely on the mountain dulcimer.

Judy House
Judy is from Winston-Salem, NC, where she lives with her husband, Kirk. A graduate of Campbell University, she is a retired public education teacher. Having been involved with music all her life playing the piano, flute, and other instruments, she was asked 10 years ago to teach dulcimer at her local community college. This led to a new career for her! She now enjoys teaching groups and individuals in her area as well as festivals all over.
Judy's passion for teaching, as well as playing, the dulcimer has led to her teaching at festivals around the country, including Dutchland Dulcimer Festival, Lancaster, PA, the North Georgia Foothills Dulcimer Association Festival at Unicoi State Park, GA, and Black Mountain Music Week, Black Mountain, NC, among others. She was recently the presenter at Folkcraft's Second Saturday Clinic in Woodburn, IN.

Kirk House
Kirk House has been playing the dulcimer for 12 years; for the last six years he has specialized in the bass dulcimer. He is a Nationally Certified Dulcimer Teacher, through Western Carolina University (Dulcimer U program). Kirk plays several different styles and designs of bass dulcimer, including 3-string, 4-string, and double-bass. He performs as part of a duo with his wife, Judy House, as well as a member of the trio 'Cantabile-Jubilee' and the quartet string section, 'SASSY.'
Other musical interests of Kirk's include mandolin, bowed dulcimer, ukulele, and shape-note singing. Kirk is delighted to be making his first appearance at the Dutchland Dulcimer Festival as an instructor.

Sarah Kate Morgan
The music of Sarah Morgan embodies her respect and joy of folk music and her creative approach to arranging. Backing traditional Appalachian melodies and haunting old time tunes with fresh harmonies and a progressive drive, she lends a new feel to seemingly "old" tunes, while accompanying pure and heartfelt vocals with the unpretentious sound of the Appalachian dulcimer.
Sarah started her musical journey when she was 7 years old and has fallen in love with traditional and folk music through the years. A native of East Tennessee, Sarah has incorporated the rich musical heritage of the area into her music. At 18, Sarah placed 1st at the 2012 National Mountain Dulcimer Championships held in Winfield, KS. A year later she went on to become a finalist in the 2013 International Acoustic Music Awards. She has also won other titles, including
Mid-Eastern Region Mountain Dulcimer Champion, Kentucky State Mountain Dulcimer Champion, and Southern Region Mountain Dulcimer Champion.

Butch Ross
"Now I know what a dulcimer is supposed to sound like" —Jake Shimabukuro
Butch Ross has been gleefully smashing disparate genres of music together for over ten years. Using the mountain dulcimer as a prism, he has used the instrument to conquer everything from Bach to the
Beatles to Radiohead (and everything in between).
His restless musical curiosity and virtuosity, coupled with his innate ability to break complex concepts into understandable ideas, have made him an in-demand teacher and performer at many folk and dulcimer festivals both in the States and abroad.
He also plays guitar and Ukulele and is a regular contributor to the Dulcimer Players News.

Susan Trump
For years, Susan Trump has been winning fans with her singing, her outstanding instrumental skill on the mountain dulcimer, guitar and banjo, and her clear, relaxed teaching style. Her magic stems from her ability to link the pastoral, tranquil images of traditional rural America to our contemporary life. Her songs touch the heart, recall the past, and inspire the times ahead. .
She is a much sought-after instructor and performer whose work has included The Old Songs Festival, NY; Glen Rose and SAM Fest, TX; Appalachian State University, Boone, NC; Heartland/ Heritage Dulcimer Camp, MS; The Buckeye Festival, OH; The Ozark Folk Center, AK; Kentucky Music Week and The Yellowbanks Festival KY; and other festivals and dulcimer events nationwide. She has won awards in both banjo and mountain dulcimer competitions.